How to accurately measure the optical power of 10GEPON/XGPON network?
After narrowband dialing, ISDN, ADSL and ADSL2 +, PON has become an important technology of fiber to the home. With the increasing demand for bandwidth, especially the rapid development of 4K video, virtual reality and other scenarios, ordinary 1GEPON / GPON has come to the time of updating and iteration, and will gradually upgrade to 10GEPON and XGPON. At that time, the bandwidth will be increased by 10 times.
During the transition from 1G to 10G, there will be 1G and 10G lines in PON network at the same time. In the traditional 1G line, the downlink wavelength of backbone optical fiber is 1490nm. After 10G deployment, the downlink wavelength of backbone optical fiber will be increased by 1577nm. Then, the problem is that the traditional optical power meter does not have the test wavelength of 1577nm. Moreover, it is not able to distinguish 1G optical power (1490nm) from 10G optical Power(1577nm) in the downlink line, and the real power value of the two lines cannot be obtained.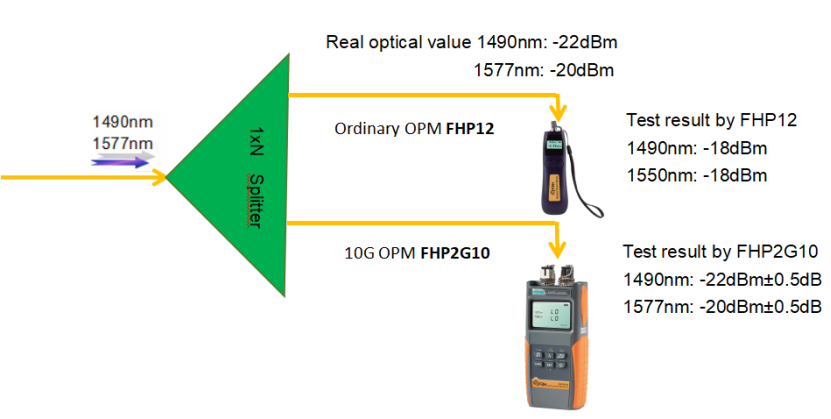 Fig: Ordinary OPM VS 10G OPM
Obviously, we can see from the above figure that the ordinary optical power meter can not give accurate optical power value when testing 10G and 1G mixed wave transmission lines, and there will be 3dB error, which will give technicians wrong measurement results and affect the installation and maintenance of the optical line.
Definitely it is important to use 10G PON power meter to test such PON network optical power. It supports separate testing at 1490nm and 1577nm wavelengths and give technicians correct measurement results for 1G PON and 10G PON fiber line quality.